CMOR Composed Materials Ohnhäuser GmbH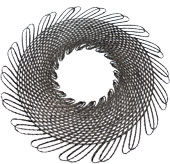 CMOR works in the development, production and marketing of products in the area of textile semi-finished products. We have made it our business to efficiently manufacture tailored and load-appropriate preforms from fibre-reinforced plastics for high-performance lightweight components
Im Zentrum stehen hierbei das » Tailored Fibre Placement (TFP) and » binder-technologies.
Strong partnerships
Thanks to the integration in the ohnhaeuser company group, CMOR GmbH and therefore our customers also have the resources of the two group companies, Ohnhäuser GmbH and Heli Aviation, at their disposal.
CMOR is a member of the Carbon Composites e.V. network of excellence and of the Technologiepark Westbayern cluster. We are a partner of the Institute for Aircraft Construction at the University of Stuttgart, the University of Applied Sciences in Augsburg and the Technologie Centrum Westbayern (TCW).